My favorite gay movie is Trick. I first saw in 1999 during Southern Decadence, at the cozy little Canal Place theater in New Orleans. I found seeing this movie one of the best treats of my visit that year, and with all the other sights and distractions that occur during this annual bacchanalia, that's saying a lot. The movie has the spirit of romance, and finding the right guy, and the intervention of fate, and all these provided an elation from realizing that anything is possible back in my real life.

The movie is funny, romantic, inspirational, and warm-hearted. You end up falling in love with the characters and wondering what happens to them in the future because you become so enamored with them. I strongly recommend this film, and as one of the two tag lines says, "It's big, it's beautiful and you're gonna love it."

The other tag line just grazes the surface of the adventure: "A story about two guys trying to make it in the big city." One of the two guys is Gabriel (Christian Campbell), an aspiring writer of musical theater who is working as a office clerk and living with a straight roommate in order to get by. His best friend is Katherine (Tori Spelling), an aspiring actress, who tries to be optimistic and encouraging to Gabriel when he feels that he is failing in the pursuit of his ambition. She can't help him with his real problem though, which is that his his creative work lacks emotion and zest - mainly because he lacks it in his own life as well.

Gabriel answers criticism about the flatness of the characters he creates by saying, "I can't have them falling in love on the first night. That wouldn't be believable." To this, his friend Perry (Steve Hayes) retorts, "Well, not if you don't believe it." The heart of the movie then becomes Gabriel learning in a night-long misadventure how to let himself believe in such things and to find what new possibilities he can gain from opening his mind in this way.


Gabriel goes out to a club and sees a handsome go-go boy. Later, on his trip home he sees the go-go boy, Mark (J.P. Pitoc), on the subway and after some meaningful eye contact, both get off at the same stop and agree to get busy at Gabriel's place. Unfortunately, Gabriel's straight roommate wants to use the apartment for his own sexcapade and Gabriel and Mark are out on the street looking for somewhere they can spend some intimate time together. Traveling through the streets, bars, clubs, and a late-night diner, they bounce around, meeting up with several wacky friends and characters who keep them from getting together but by sunrise have provided a situation that teaches Gabriel and Mark that a little perseverance can provide something more gratifying than a one-night stand.

The movie isn't as heavy as a Brokeback Mountain but it still has some worthwhile messages: looks can be deceiving, nice guys don't finish last, and sometimes the best things in life come with a little delay.


Christian Campbell does a wonderful job of portraying the somewhat innocent and reserved Gabriel. You can feel his frustration from being stymied in his vain attempt to be a little more adventurous. J.P. Pitoc is hot, but more importantly he convincingly plays his character first as a stereotypical stripper and then as the more layered person that Mark allows Gabriel to see. Tori Spelling is Tori Spelling, but she does some great comedic work (especially during her blow-up in the diner scene). The best performance of the movie has to be from Clinton Leupp as Miss Coco Peru, in the famous "drag queen in the bathroom" scene. Coco Peru should have a star on Hollywood Blvd. for this performance.

The soundtrack CD has some good tunes on it. I especially like Erin Hamilton's version of Dreamweaver and Jessica William's I Am Woman. Steve Hayes does a funny bit at a piano bar with the song Como Te Gusta Mi Pinga?. Tori Spelling sings Enter You (Gabriel's show tune), and there is a nice reprise at the end from Christian Campbell. Be prepared after this to start spontaneously belting this song out whenever you see someone making a grand entrance. Finally there is the blissful song over the credits, Trick of Fate by Valerie Pinkerston. Love it.

I own the dvd, the t-shirt, the cd and the full size movie poster (the only one I have ever bought). It was interesting to me to see what other people thought. I created the movie list in the sidebar with Amazon's Unspun, and after 29 reviewers voted, it is #2 best gay movie. It's to be expected that nothing could beat the behemoth Brokeback Mountain. On Amazon, the movie has almost a five star rating from 201 reviewers. Eight reviewers gave it one star, but reading their comments gives a glimpse into the epicenter of bitterness and anti-social thoughts. They are more bitter than the bathroom drag queen, but without the humor of getting spunk in their eye.

See links below for detail info on the DVD and CD.

Trick DVD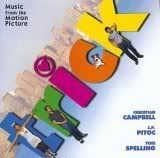 Trick: Music From The Motion Picture
---
Movie trailer: