2008 version of the U.S. Mens Gymnastics Championship.
2008 U.S. Olympic team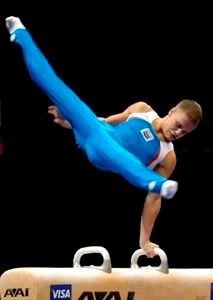 The athletes of what sport most look like gay adult video stars? Is there any answer other than gymnastics? They move their muscular but lithe bodies from one difficult position to another, grimacing as they stretch and contract their muscle fibers, working toward that climatic moment when they make one final stick of the landing. They pause and hold themselves erect for a moment, as the ecstasy of their achievement courses through their body. Then they smile their puppy dog smile and quickly leave the scene as one of the crew hands them a towel.

Since the headquarters for gymnastics in the U.S. in Indianapolis, I felt I should comment on the men's artistic gymnastics competition at the U.S. 2007 Visa Championships. The men's All-Around concluded August 17th with David Durante as the winner and Guillermo Alvarez a close second. Third was Sho Nakamori, fourth Alexander Artemev, and fifth David Sender. (Looking at the results I wonder if the rest of the world appreciates how "multi-cultural" America really is.)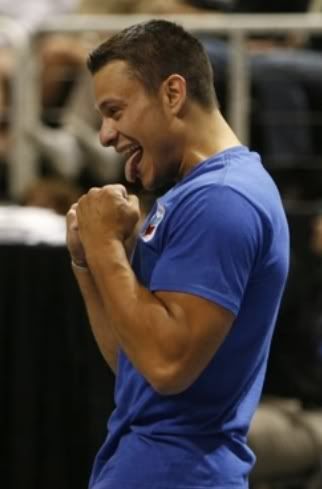 David Durante with some tongue action.
Guillermo Alvarez sticks out.
Gymnast David Sender working two poles at once.
I love the form of a male gymnast. They are the perfect travel-size boyfriend. My favorite for awhile has been Raj Bhavsar - I love a guy with a permanent tan. His best performance this year at the championships was 7th on the still rings. I'm also starting to like Guillermo. I read somewhere that he liked a book written by Steve Pinker on the theory of language. For me, that means that I can appreciate Guillermo intellectually as well as aesthetically.

Raj Bhavsar manhandles his horse block.
There are two things I don't like about gymnastics. One is that the modern version has gotten too far from its ancient roots. The Greek word
gymnos
means naked, and this should be considered an essential attribute of the sport. On the other hand, most of the outfits they wear today are so close to nude I can let this one pass. The other problem with the governance of the sport is that it requires gymnasts to be amateurs. I see no reason one they should not be allowed to make some money with some tumbling-for-pay adult video action. If I was covering a gymnastics event for the media, I would ask all of the athletes what their opinion is on these matters. Of course, that is one of several reasons why I am not allowed to be a sports reporter.
The championship will be broadcast on NBC on 9/9. I will be one of the 35% of total viewers that are men (gay). Jonathan Horton, Danell Leyva, and Justin Spring can be viewed there also. In the meanwhile, a good preview of the male gymnasts practicing shirtless can be found here from NBC Sports:
I have posted an after-air commentary (including how many of you searched for David Durante shirtless and Guillermo Alvarez gay) here:
link
.
---
One more thing: I read that Blaine Wilson wants to make a comeback. Please, someone make it go away. I have been waiting for years for this albatross around the neck of the American team to pass on and now it still won't go away gracefully. Blaine, I am wishing you straight into the cornfield.